Antidote 71 is the proud recipient of an American Marketing Association (AMA) of Omaha Pinnacle Award in the Digital Media — Small Business category.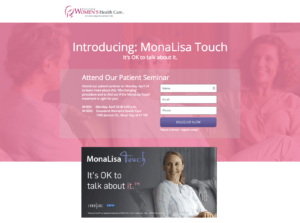 The AMA Omaha Pinnacle Awards are an opportunity for local organizations to enter their most successful marketing campaigns for the prior year. Antidote 71 received a silver award for their work with Siouxland Women's Health Care in Sioux City, Iowa.
Antidote 71 expanded their ongoing relationship with Siouxland Women's Health Care last year to raise awareness for and promote MonaLisa Touch, a new procedure available to women in the Siouxland region.
As one of the first providers of the revolutionary MonaLisa Touch procedure, it was important for us to get the word out quickly to the right audience," Julie Barto, Siouxland Women's Health Care Administrator said. "We were thrilled with the results of the campaign from our agency partner, Antidote 71, and proud to be recognized with them by the American Marketing Association."
To meet the team's objectives for reaching their target audiences, Antidote 71 approached the campaign with a focus on digital elements including a lead generating landing page that was featured within several Facebook advertising campaigns from June through December of 2016.
It was important to not only raise awareness about the new MonaLisa Touch procedure in the Siouxland region, but to also gather qualified leads," Rich Mackey, Antidote 71 Managing Partner said. "Ultimately, our digital efforts helped the Siouxland Women's Health Care team turn those leads into patients."
The Pinnacle Awards are judged based off of metrics and measurable tactics using a predetermined points system. The 2017 Pinnacle Awards were judged by distinguished members of the AMA Washington, DC Chapter.