If you're like me and suffer from constant late-night cravings, you know the struggles of finding good food late at night. Yes, fast food is always an option, but that gets old quickly, you often end up waiting in long drive-thru lines and paying way too much for what you end up getting.
Luckily, this personal struggle, coupled with my passion for finding awesome food in Omaha, helped me compile a list of the 5 best places to eat late at night in Omaha. This list has a little bit of everything, from boozy milkshakes to tot-chos and fried Oreos. You're sure to find something you'll enjoy.
Before we get started, I want to fill you in on my criteria and thought process for this list. For a place to be considered, it had to:
Be open past 10 pm

In a neighborhood with a good late-night scene (in case you can't drive while out)

Open late on both Friday and Saturday

Local to Omaha
5. Ika Ramen (Benson)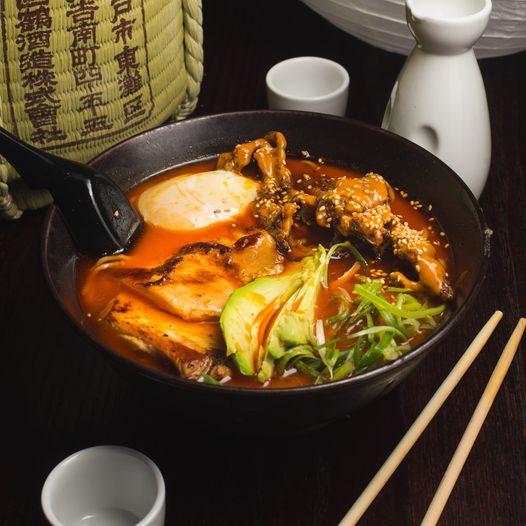 Hours: 11 am-1am Fri, Sat
Address: 6109 Maple St, Omaha, NE 68104
Menu: https://ikaramen.com/menu-ika-benson/
If you live in Omaha, you've probably heard of Ika Ramen. Their unique takes on traditional Japanese ramen have captured the local food scene with four locations and counting at the time of writing this. For now, we'll focus on their original location in Benson because it's my favorite and a great late-night spot.
The Benson location is small and features limited seating, but you can expect a great atmosphere along with awesome food and drinks. Speaking of drinks, along with having a full-service bar, they also have a secret speakeasy in the basement called Katei. It features more adventurous cocktails and super cool décor, which is a major plus.
The food is why we're here though, and almost everything hits the spot, especially late at night. The small plates are fantastic and feature things like spicy tuna tots and kimchi tempura. The main highlight is, of course, their ramen, and I highly recommend giving it a try on your first visit. My personal favorite is the Fuego Ramen, which is a perfect blend of spicy and umami flavors. How they're able to get fried chicken skin to stay that crispy soaking in broth is beyond me, but it's freaking delicious! If you're in the mood for something hearty and flavorful, then this is a no-brainer. It's open pretty late on Fridays and Saturdays, so check it out.
4. Cheeseburgers (Blackstone)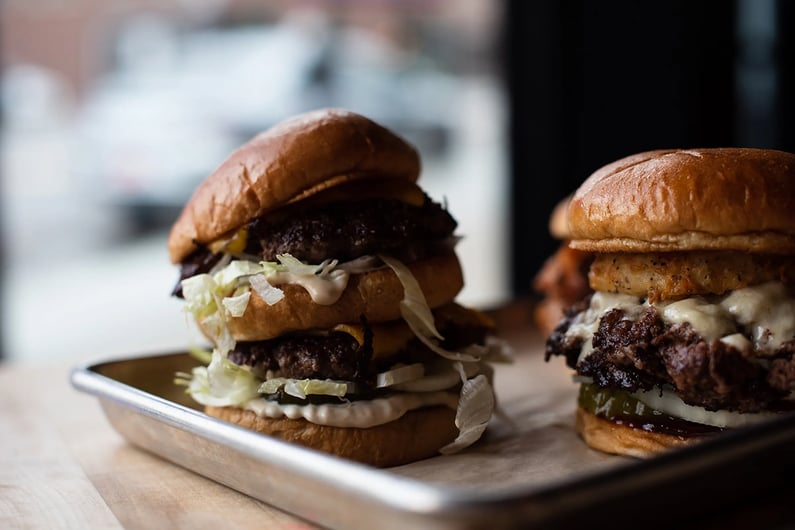 Hours: 11 am-1 am, Fri, Sat
Address: 4007 Farnam St, Omaha, NE 68131
Menu: https://www.ineedcheeseburgers.com/menu
Another popular spot in Omaha with three locations and counting, Cheeseburgers is a fantastic late-night stop. I've been here many times while out late with friends, and their simple menu and reasonable prices keep me coming back. The Blackstone location is my favorite since it's a quick walk from many popular bars in the neighborhood.
The burgers are big and juicy in a delicious and filling kind of way. They also have fantastic fries, shakes and even hot dogs. When I go, I always get either the party dog which is their take on a classic Chicago dog or their behemoth of a burger called The Nation. It's their take on a Big Mac, and it's much bigger and way better. They also have fantastic fried pickles and chicken fingers.
If you're craving a classic burger and fries but are tired of the quality of fast food, then Cheeseburgers is the spot for you. Everything is fantastic, and they have some of the best burgers in Omaha.
3. Nite Owl (Blackstone)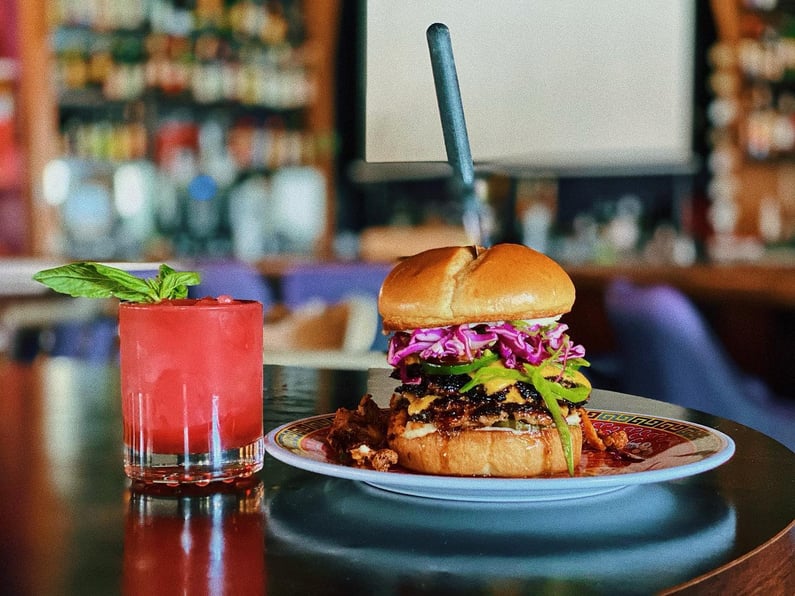 Hours:
Wednesday 5PM–2AM
Thursday 5PM–2AM
Friday 5PM–2AM
Saturday 3PM–2AM
Sunday 3PM–12AM
Monday Closed
Tuesday 5PM–2AM

Address: 3902 Farnam St, Omaha, NE 68131
Menu: http://www.niteowlomaha.com
Nite Owl is another Blackstone favorite and happens to be my wife's favorite place to eat, so I may get some flak for only putting this at #3 on my list. Among Blackstone's various bars and restaurants, Nite Owl is one of the best places to get awesome food and creative cocktails.
While the drinks are pretty good, the food is always delicious and interesting. Some of the highlights of the menu include Thai peanut and sambal jelly wings, which provide great contrasting flavors and, of course, you can't forget to grab their fried Oreos, which are a perfect late-night snack. Along with that, they have more normal fare like cheeseburgers and tot-chos but don't forget to keep an eye on their specials.
In the past, their specials have included things like giant Korean corn dogs full of gooey and delicious cheese and green bean casserole empanadas, which I'm sure some of you would get pretty excited about. Check their socials to see current specials, but this is a spot you should check out.
2. Fizzy's (Little Bohemia)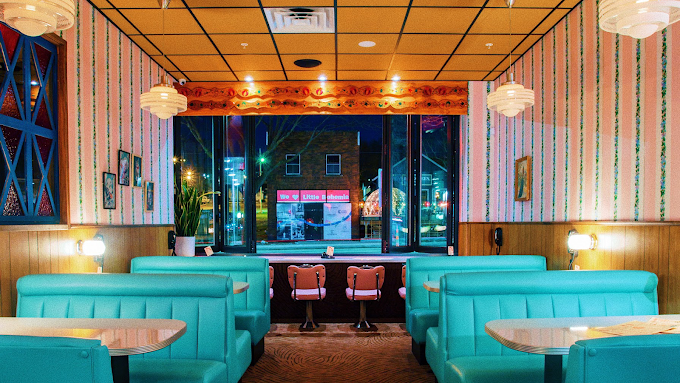 Hours:
WED - SAT : 5PM-12AM
MON & TUES : CLOSED

Address: 1408 S 13th St, Omaha, NE 68108
Menu: https://www.fizzysomaha.com/
Fizzy's is one of my favorite places to eat in Omaha, period. There's nothing quite like it anywhere else in the city, and it's in a fun spot tucked into the neighborhood of Little Bohemia. It's a great cocktail and casual dining lounge themed as a 1950s diner with the décor to match.
You'll have fun sitting in its teal blue booths and popping a quarter into their jukebox. Even ordering your food is a treat. They utilize a rotary phone system on each table that has you calling into the bar to order your food and drinks. It all adds to the atmosphere and novelty of the experience.
For food and drinks, they serve creative cocktails and upscaled diner food that really surprises you with just how good it is. I really enjoy their ice cream cocktails, which feature local favorite Coneflower Creamery's ice cream and they aren't afraid to experiment with flavors either. Take the Hummingbird Song for example. Combine cardamom-clove gin, mango, velvet falernum and coneflower coconut ice cream and you get a well-balanced boozy coconut mango milkshake that you can't really get anywhere else.
In terms of their food, I really enjoy their efforts toward keeping things simple yet delicious. At first glance, their menu doesn't seem too out of the ordinary, but when you really look into each item, you start to see just why this isn't your typical diner fare. Take the cheeseburger, for example. They use wagyu beef and house-made sauce that really hits the spot late at night. You can even get a bucket of fried chicken with hot honey!
Fizzy's uses high-quality ingredients and techniques to really let their "simple diner fare" shine, and the drinks are some of the best in Omaha. If you're out in Little Bohemia or just need a fun spot to hang out and grab great food and drinks, then this is the spot for you.
1. Mercury (Downtown)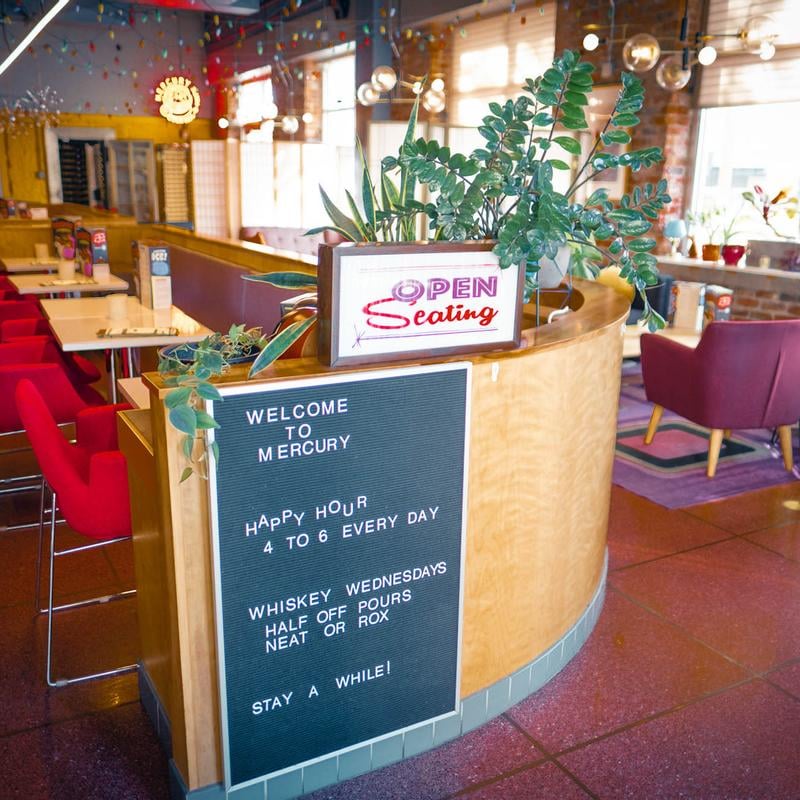 Hours: Open 4:00 p.m. – 12:00 a.m. every day
Address: 329 South 16th Street, Omaha, NE 68102
Menu: https://mercury-omaha.com/omaha-mercury-food-menu
Some may be surprised to see Mercury at the top of my favorite late-night spots to eat, but you shouldn't be because it has fantastic food! Mercury is my favorite cocktail lounge in Omaha, and many people don't realize just how good the food is. Located in downtown Omaha, Mercury is a contemporary, mid-century modern cocktail lounge with a rotating theme and menu, depending on what time of year you go. This means there are always opportunities to try new and exciting things you can't get anywhere else.
Mercury is number one on my list because there's nowhere better to get both food and drinks. They have the best cocktails and arguably some of the best food in Omaha. At the time of writing this, they are on winter vacation and it's unknown what theme will be next, but some of their past themes included a cereal-inspired cocktail menu, a menu based on shows at The Rose Theater, with proceeds benefitting them, and even an album-inspired menu with some of the most creative cocktails I've had the pleasure of trying.
Where else can you try a drink with bourbon, cigarette bitter, iron, clove, salt, black sesame and a broken beer bottle? It sounds crazy, but the drink was meant to emulate the feeling of being in a mosh pit, and you can't deny that it's one of the most creative cocktails you've ever heard of. I'm sure you have plenty of questions about how I was able to drink such a thing but let me clear that up by saying there's not actually broken glass or cigarettes in the drink, just ingredients meant to emulate them. Not only was it the most creative drink I've ever tried, but it also tasted well-balanced and was fairly enjoyable to sip.
Moving on to their food, I think they have the best cheeseburger in Omaha, hands down. Call me crazy, but when you go to the effort of making your own buns just for your burgers, then you're doing something right. It's so juicy and flavorful that I don't know how it could be any better. Their other options are also awesome, featuring such delights as beer cheese fondue and a fried chicken sandwich with house Calabrian chili sauce and house pickles. It's also worth mentioning that all their pasta is made in-house. I could go on forever about just how special this spot is, but you're going to have to try it yourself to believe it.
Final Thoughts
I hope you enjoyed reading through my favorite late-night spots to eat in Omaha. It was a lot of fun for me to put this together, and I'm thankful to have so many fun places to eat and drink in this city. I also want to thank Antidote 71 for allowing me to write about things I'm passionate about and giving me a platform to share these thoughts with you!
If you'd like to see more content like this, then follow us on LinkedIn. If you need help with marketing, feel free to get in touch with us by clicking the contact us button below.