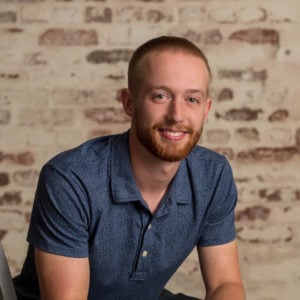 It's a tradition here to ask every one of our new hires a list of get-to-know-you questions. It's not only a great way to get to know our new team members a bit better, but it also makes for some fun blog content! And while Trenton isn't really a new hire anymore (he's going on 2 years with us), we'd still like to give him a quick shout out! Say hello to our Web Developer, Trenton Hicks! Where are you from? Sioux City - I've lived here my whole life.
You've been here a while now – but what's one word you would use to describe Antidote 71? And why? Fun. Everyday there's a new challenge and I enjoy looking for more efficient ways to get things done. I also really enjoy collaborating with Jesse on design work. It's fun to bring ideas to life and create remarkable experiences for the customer.
What's the most important part of your personality that you bring to the job? I care about doing things right. I'm honest and strive to do excellent work.
How do you get rid of stress? Prayer, Bible reading, and exercise. By meditating on the scriptures I began to change my thinking which was the source of stress and anxiety. I also understand that exercise is important because improving physical fitness will also have an effect on mental health.
How do you learn new skills? (classes, self taught, just jump in and try it, etc.) I learn best when there is a goal that I want to accomplish that requires a skillset I don't have. Once I know what the goal is, I will do research to help me understand the skills needed and map out the learning path. After my goals are written down I will gather books, online courses, blog posts, and whatever else I can find. I think that the key to learning is not just knowing how to do something, but understanding why it works. You should be able to explain why something works, otherwise you can't solve the root cause of a problem without a tremendous amount of trial and error.
Coffee? Tea? Water? Energy Drink? Something else? What do you consume the most of (beverage wise)? I drink a lot of black tea. Earl Grey tea is probably my favorite. I spend a lot of time at coffee shops when I study and enjoy both coffee and tea.
If you could start a new tradition at Antidote 71, what would it be? It would be cool to go to a HubSpot conference or some other learning engagement as a team.
What's your favorite smell in the whole world? That one thing that if you smell it you just stop what you're doing and savor it… Freshly roasted coffee.
We're making nachos. What goes on yours? Cheese, refried beans, sour cream, guacamole, pickled jalapeño peppers, salsa verde.
Naps. Pro or con? Naps are fine, as long as the work is done. Do you have an irrational fear that seems ridiculous, even to you, but still scary? I have a strong disliking of styrofoam. I don't want to touch it or hear the noises it makes when scraping against other surfaces.
Does pineapple belong on pizza? Yes.
Trenton has been a valuable part of our team! Over the past couple years he's built websites for many of our biggest clients and handled his fair share of, "this website is broken and I don't know why" problems. He's a self-starter, a curious mind, and is always ready to learn something new. Trenton is going places and we can't wait to see what the future holds for him! Like this style of post? Our team is growing fast! Be on the lookout for more of these meet the team posts for our newest team members!