The results are in! The time has come to reveal the final four picks and our National Championship picks for our Logo Madness tournament! This is definitely not how teams shook out for game play, but for logos—these are our picks. For those of you who haven't been following along, here's what we've been up to... We seeded the March Madness basketball teams the same as the tournament bracket, then got everyone in the office to vote on their favorite team logos. No rules on how to pick, just whichever logo each person preferred. The logo that received the most votes, moved on to the next round.
The final four
Here they are! The Final Four as chosen by our team are St. Louis, Oregon, Murray St. and Northeastern. Curious to know why we chose what we did? Check out these quotes submitted anonymously by our team... St. Louis v Bradley - "I can't help it, he's winking at me." Oregon v Iowa - "Hurts me to go against the Hawks, but the "O" is iconic"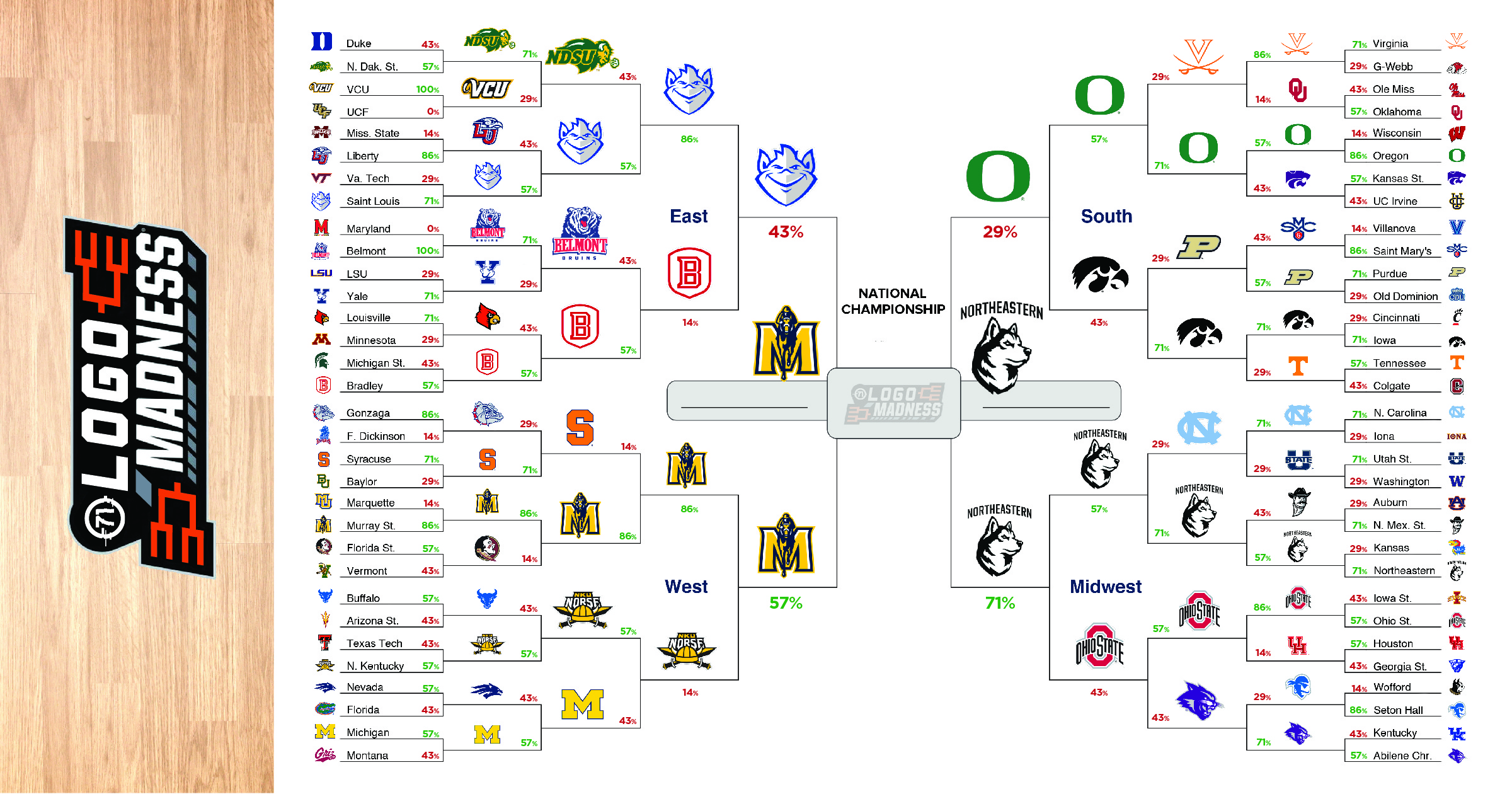 What do you think about our picks for the Final Four? Would you have chosen differently? We'd love to hear your opinions in the comments!
THE CHampionship round
And we're playing a little catch up so you get a double blog post this week. Of the four above, here are the picks that we'll vote on to select a final winner: St. Louis v Murray State - "C'mon little buddy! You can do it!" (Spoiler alert: he didn't.) Oregon v. Northeastern - "I love the iconic, simple, Oregon 'O' but in the end I'm a dog person." So the iconic Oregon O and St. Louis Billiken with his cute wink bit the dust. We do have to say it was a VERY close vote, but in the end, we went for the dog and the Murray State classic M. So who did you think will take the ultimate? Will our team be 100% dog people? Or will the classic Murray State logo have a chance? We're running a poll on our Facebook page so you can weigh in. Go vote!