From Chief Crisis Officer to Chief Growth Officer
At the end of 2019, things were looking incredible for our business. We were all aligned on our strategy moving forward and had a solid plan for steady, manageable growth. In our annual meeting at the end of the year, we agreed to a 5-year plan that projected roughly 40% growth year-over-year. We were set. Crisis management wasn't even on our minds.
January came along and it was one of our best Januarys ever. We had a couple of new clients, but more importantly, existing clients were growing. Things were looking amazing.
On February 15th, we signed a lease for space in Omaha's Old Market—a part of our growth plan. On that same day, we made an offer to a new team member—our first hire in nearly 2 years. And on February 20th, I took over full ownership of the company as my previous business partners exited to pursue other passions.
On March 2, everyone went to work as usual. This time with 2 of us working from an office space in Omaha.
within 2 weeks everything changed
As word of the Novel Coronavirus began to spread, we knew some change was imminent. What we couldn't have guessed was that on March 17, 2020 we would close both offices—one we had been in for only 2 weeks—until summer.
Just as we were navigating this new territory, our clients were doing the same. We heard word from a few clients that they were concerned about reaching their audience. And if they SHOULD try to reach their customers and prospects? Or do we all just pause.
After careful consideration, a few of them chose to pause their marketing. It was an understandable decision. And as a partner alongside them, we helped as best we could. The result? Our revenue dropped over 60% giving us the worst 2 months in 5 years. More concerning, our revenue dropped below our ability to sustain payroll. My role shifted quickly.
from chief executive officer to chief crisis officer
There was zero doubt that the world was seeing a crisis, and of course that crisis was impacting our business and our clients' businesses. My first job was to talk to our team and assure them that we would make it through this. Together. With everything this company had been through in its nearly 20 year history, we weren't about to be shut down by a virus. It was time for a crash course in crisis management.
I talked to our attorneys about what we could legally delay paying outside of payroll. And we were receiving daily communication from our accounting firm on support that might be available to companies willing to keep employees on, or to bring them back if already laid off.
In April we applied for our first PPP loan through a major national bank. We were informed we were not in the first round submitted. Later news came out about large banks favoring higher PPP loan amounts over smaller, and it appeared we were caught in that same situation.
At this point, we were running out of cash reserves. Things didn't look good, but we kept the faith. And I kept in communication with our team and our clients.
from understanding the crisis to managing it
When the SBA re-opened the window for the first PPP round, our loan was submitted. The process moved fairly quickly and we had enough to cover 2 more months of payroll.
At the same time, our clients who had hit "pause" on their marketing determined (after talking with their customers) that business needed to move forward. Almost overnight spend came back up and our largest clients made us whole on missed revenue while they paused payments.
We went back to the office in limited capacity in June of 2020. At most we had 6 people in one location, and our desks are naturally 6' apart anyway. But we went back with no more than 3 people per location.
And in the midst of all of this? We hired 2 interns in Omaha to work part remote, and part in-office with our team.
Things began to improve at the end of Q2 and into Q3, but cash flow was still tight.
Fortunately, we received a 2nd PPP loan, and qualified for an Economic Injury Disaster Loan (EIDL) from the SBA for our Omaha location.
new business starts to accelerate
Since March, things were just about survival. We were looking ahead to 2021 for some future growth and hopeful we could get back on track with our annual plan.
But around August of 2020, we started to see new business opportunities coming in from a broader geography. Companies had figured out that they were going to be doing Zoom meetings with the agency down the street, or with one a thousand miles away, so they were looking at more options.
Being in the middle of the country, we have fairly low overhead compared to the coasts. And that meant lower rates for potential clients. By October we were closing 80% of the pitches we participated in. Now we were having capacity issues.
becoming chief growth officer
Managing fast growth is an entirely different game than surviving a worldwide pandemic. Our first task was to hire—fast—but not make mistakes that would hurt our culture.
By November 1 we added two more to our staff. A full-time digital specialist and a full-time project manager. Two much needed roles to keep us moving forward.
Going into 2021 the growth didn't stop. We were bringing on new clients every month, and now had clients in 16 states across the country. We had to shift our mindset.
We weren't a "small digital marketing agency in the midwest" anymore. We were a national marketing agency that happened to be located in the middle of the country. We weren't 6 people anymore. By My of 2021 we were 12. We had doubled in size (from a headcount standpoint).
We started to meet monthly to talk about our business, our growth, what successes we were having, what growing pains we were feeling—and we were feeling a lot.
We hit our full-year 2021 revenue goal in October.


We passed our 2021 revenue stretch goal by November.


We ended the year hitting a milestone we thought was unachievable in 2021.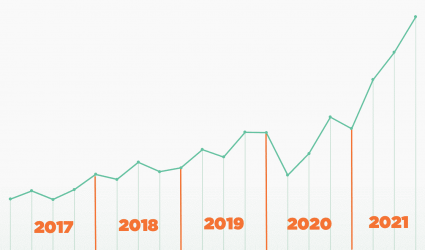 our next phase of growth
At the end of 2019 we had projected 30-40% revenue growth in 2021. By the end of 2021, our total revenue growth was 72%. But that growth came at a price. Because we had to staff up and build capacity fast, we used profits for payroll. It was the right move at the right time, but not sustainable. (Not to mention we had to add equipment for an entire new office and computers for 6 new team members.)
As we enter 2022, we have capacity to continue growth and to continue to deliver for our clients. Every role is duplicated, so we have teams working together—more brains in the room—and backups for much needed vacation time for our team members.
We're also diversifying our income, offering some turnkey solutions for web hosting and maintenance, and a new program with a partner that will deliver consistent revenue month-over-month profitably as we scale.
We did have 2 team members leave in 2021. We've backfilled them, and our 13th team member will start this Monday. We may hire one or two more this year—as our capacity and client needs dictate. But overall, 2022 is going to be about efficiency, process, continuing to improve results for clients and yes, profitable growth.
And we're thrilled to have our current clients (and future clients) along for the ride with us!