Why a Social Media Competitive Audit Can Help GROW
If social media isn't part of your strategy, it should be. This is a prime opportunity to showcase and discuss products with customers and leads online. It's also an ideal opportunity to follow them through the purchasing process. By utilizing web analytics tools, you'll learn more about where your social media audience goes once they land on your website. But it's not just the analytics that are intriguing about the social selling process. It's also your competitors' channels, products and traffic on social media. Monitoring what they're selling and the messaging behind those products could put you at a competitive advantage. The information you learn from your web traffic and your competitors will help you decide which products are more likely to sell via social media. Once you've assessed your competition, building a messaging strategy behind products to stand out is key. Plus, if new content ideas aren't coming to you as quickly as they used to — or if your channels just aren't getting traction — a competitive audit is also effective in helping ignite new ideas. Not sure how to get started with your competitors? We can help.
Getting started: You want to stay competitive and relevant to customers and leads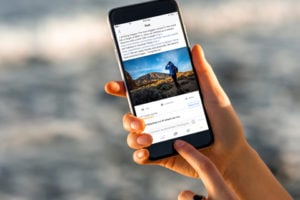 Wait... their audience is twice as large as yours and users comment about their products on every post? Don't worry — you can get there. We start our competitive audits by asking our clients to choose three to five competitors in their market. From there, we look at the top channels they focus on and analyze traffic, messaging and product strategy to build a comprehensive channel report on each competitor identified. Along with the report, we provide a summary that includes your competitive advantage and response to each of the companies you've chosen. That way, your team knows how you're different and also what could change to stay in front of leads for each of the competitors. As a reminder, an audit isn't just for brands selling a tangible product. Some of the companies that benefit the most from a competitive audit include those in the financial and insurance industries.
Know where you stand: Let's discuss your competitors
Click the link below to request a call to discuss a competitive social media audit. Our initial phone call will include questions about which channels you're using for marketing and an initial discussion about your competitors. From there, we'll go to work to provide you with recommendations to improve your social media channels.