Twitter is the channel for list makers, hashtag followers and those who want to keep it brief but humorous. For brands and businesses, this makes Twitter the perfect place to look for new customers. The tips below will help you get started — or start again — with engaging your customers and prospects on Twitter. Our free Twitter prospecting workbook will also help you stay organized and efficient along the way.
Lists help keep prospecting and monitoring easy on Twitter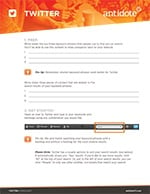 Start by making a private Twitter list and add those leads to your 'Future Customers' group. Users won't receive a notification that they've been added to a private Twitter list so feel free to also add competitors to this list and monitor conversation. Along with your initial group plus your competitors, use Twitter geography to your advantage. Not sure you want to make your Twitter list private? Consider a public list with a broad title such as 'Omaha Thought Leaders' or something less formal but still associated with your business like 'Omaha Caffeine Club.' When a list is public, each person you add will receive a notification; this may lead to exposure or awareness of your business. Post often, engage, watch your lists and make new lists – because Twitter is a fast moving channel and you'll need to adjust accordingly to stay relevant.
Track keywords and engage to establish your brand as a thought leader
If you own a small business, start by targeting within your city. Track keywords associated with your business so you're able to jump into conversation when it's relevant to your brand. When it's time, entice leads using coupons and giveaways to expand exposure and engagement. Just like any other social media channel, being established as a thought leader is important so you're seen as credible and relevant. You want to be in your prospects' list of options. Look for industry Twitter chats that your brand can participate in to establish credibility. If you're having a hard time finding Twitter chats that directly relate to your business, consider joining popular conversations like #TGIT, #FridayReads, #ThrowbackThursday, etc. to relate to your audience. And if you find your leads are engaging with a certain hashtag, respond to users in your area, especially if those under your public/private lists you've created are participating in the conversation.
Create personality with a unique brand voice including hashtags
If you've already mastered and participated in chats in your industry, now's the time to start your own hashtags so your brand advocates can use them – enticing others to join in and be part of the conversation. Personality and transparency also matter when you're engaging with your prospects. Who do you look to for inspiration in your industry? For example, you may look at brands like Wendy's and Halo Top for inspiration if you're a local restaurant who wants to increase followers and build brand loyalty via a unique voice. Think of each tweet as a 140-character brand extension. Define a voice for this channel and use it to create a personality that people want to talk to and talk about. Make the time investment here or you could miss an opportunity to connect with a prospect who would be a perfect match for what you're selling.
Our free workbook will help you prospect on Twitter
Haven't defined your prospects or need help getting started? No problem. Start by filling out our prospecting workbook to identify leads, common keywords related to your business and also use it develop the best content for your business.