As the resident vegetarian of the A71 team, I'd like to share my top 6 picks for vegetarian-friendly restaurants in Sioux City. I've noticed that many "vegetarian-friendly" options in the Midwest only offer a limited selection. It can get tiring eating the same Cobb salad for every meal out, that's where I hope to come in with these recommendations. I've compiled a list of restaurants that offer diverse cuisines and a variety of vegetarian options or accommodations.
I know firsthand how challenging it can be to maintain a vegetarian diet in the Midwest, so I hope these recommendations come in handy for my fellow plant-conscious eaters!
CRAVE American Kitchen & Sushi Bar
Hours: Mon-Sat: 11 AM - 10 PM | Sun: 11 AM - 9 PM
Address: 1100 Larsen Park Rd, Sioux City, IA 51103
Menu: https://cravesiouxcity.com/menus/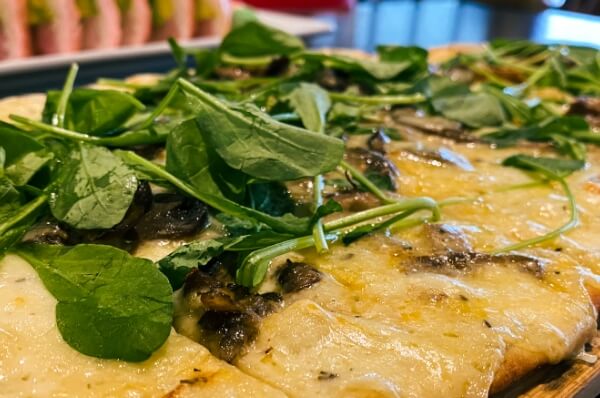 This upscale sushi and American eatery calls its home to the Midwest region, specifically the state of Minnesota and the cities of Sioux Falls and Sioux City. What sets CRAVE apart is its plant-based and gluten-sensitive dining menu, which offers 21 different vegetarian options from appetizers to entrees, making it easier for vegetarians to find something appealing to eat.
One of my favorite sushi dishes on the menu is the vegan CRAVE roll, loaded with vegetables and plated beautifully. Their flatbreads are a must-try, especially the veggie truffled mushroom flatbread that I highly recommend.
If you're looking to impress for an occasion or want a few more options for your night out, CRAVE has a lot of delicious vegetarian meals to choose from!
Shahi India Grill
Hours: Mon-Thurs: 4:30 PM - 9 PM | Fri-Sun: 11 AM - 9:15 PM
Address: 3146 Singing Hills Blvd, Sioux City, IA 51106
Menu: https://www.shahiindiagrill.com/menu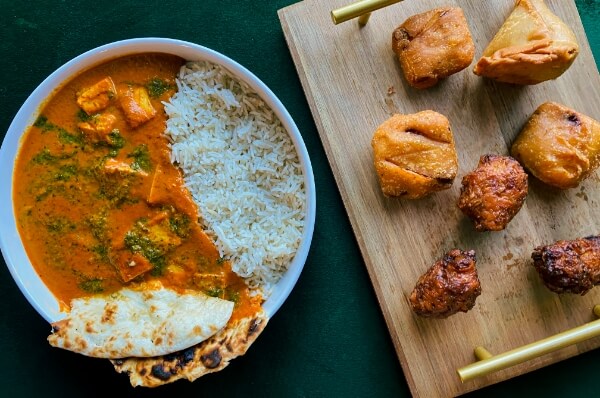 Shahi India Grill not only offers amazing and authentic flavors, but it also boasts 38 vegetarian-friendly options, from appetizers to entrees—a godsend for vegetarians! The restaurant seems to be a favorite among Sioux City locals due to its excellent service and ambiance, which perfectly match their savory flavors and dishes. The dining experience is sure to be unforgettable, with beautifully decorated tables, friendly waitstaff and an atmosphere that transports you to a different city.
If you want to try various vegetarian appetizers, I recommend the Shahi vegetable sample dish featuring their vegetable samosa, vegetable pakora and paneer pakora. For entrees, I loved the paneer tikka masala served with fresh naan bread and basmati rice. Another fan favorite at the office is the dal makhni or veggie korma. Shahi India Grill also offers delectable dessert options for those with a sweet tooth.
If you can't get enough of Shahi India Grill or want to check out their other locations, they also have restaurants in Sioux Falls and Omaha.
Pete's Thai on 5th
Hours: Tues-Fri: 11 AM - 3 PM & 5 PM - 8:30 PM | Sat: 12 PM - 8:30 PM
Address: 507 5th Street, Sioux City, IA 51101
Menu: https://www.facebook.com/petesthaion5th.siouxcity
If Thai food is on your mind, check out Pete's Thai on 5th! With 32 vegetarian-friendly options available, there's something for everyone. If you choose to dine in, the restaurant is decorated with lanterns, elaborate wood paneling and peaceful music, creating a relaxing atmosphere for your dining experience.
To start your meal, their crispy fried spring rolls make for a delicious appetizer. As for the main course, I highly recommend either number 57—the spicy wok noodle with tofu, or PT8—the veggie tofu pho. For most of their main dishes, you can substitute the meat with tofu, which is great if you want a variety of options. If you crave something sweet, try the fried banana 'n ice cream or the sweet coconut rice with Thai egg custard—the perfect ending to a fantastic dining experience!
The Diving Elk
Hours: Tue-Thu: 4 PM - 11 PM | Fri-Sat: 4 PM - 12 AM
Address: 1101 4th St, Sioux City, IA 51101
Menu: https://www.facebook.com/TheDivingElk/
Looking for a great place to enjoy drinks and dining? Look no further than The Diving Elk! With a variety of light appetizers to pair with your cocktail and classic American entrees, the Diving Elk has 11 vegetarian options to choose from.
If you're anything like me, a delicious cocktail with dinner is a must-have for a perfect dining experience. The Diving Elk offers new specials every week, featuring "revolving craft beer taps, top-shelf spirits and quality food." For appetizers, I recommend the truffle fries or the hummus platter, and for something a little more adventurous, try the goat cheese fondue or the sweet and spicy Brussels sprouts. As for entrees, the vegetarian southwest mac and cheese and the classic margarita flatbread are my top picks!
https://www.facebook.com/photo/?fbid=756511682959826&set=pb.100058030040699.-2207520000.
Brightside Cafe
Hours: Mon-Sat: 7 AM - 2 PM | Sun: 9 AM - 2 PM
Address: 525 4th Street, Sioux City, IA 51101
Menu: https://siouxcitybrightside.com/
In need of a new breakfast or lunch spot? Check out Brightside Cafe! This lively cafe has 14 vegetarian options to choose from. It can be disheartening to settle for plain eggs or pancakes when searching for a satisfying breakfast, but Brightside Cafe caters to vegetarians by offering options for nearly every section of their menu.
I enjoy catching up with friends over a cup of coffee and the garden omelet packed with veggies and mushrooms and topped with fresh avocado. If you're in the mood for lunch, I highly recommend the veggie sub, which features layers of veggies between a cream cheese and hummus spread, served with a pickle spear.
Next time you're craving a homemade breakfast or lunch, be sure to visit the family-owned Brightside Cafe.
La Fiesta Charra
Hours: Mon - Sunt: 11 AM - 9 PM
Address: 3079 Floyd Blvd, Sioux City, IA 51104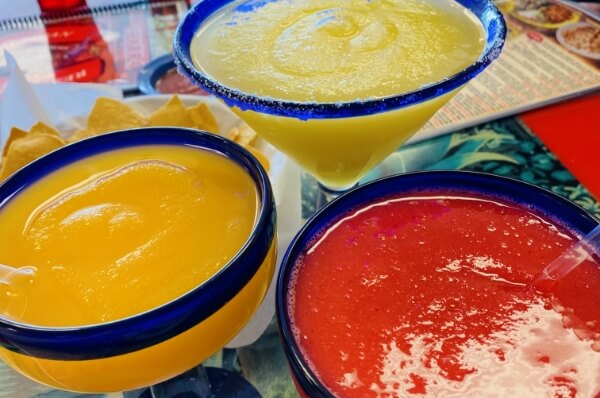 In the mood for some Tex-Mex food? Take a trip to La Fiesta Charra! This restaurant has been a Sioux City favorite for my friends and co-workers from its expansive dining menu, friendly service and delicious margaritas. La Fiesta Charra features 15 vegetarian-friendly items from appetizers, desserts and a vegetarian-specific entree section!
In my experience, nothing complements a meal at La Fiesta Charra quite like a margarita and some chips and salsa. For the main course, I highly recommend the vegetarian quesadilla with cheese and mushrooms served with rice. For an extra burst of flavor, ask to add fajita vegetables. If you're a fan of beans, the bean burrito or bean tostada is an excellent choice. And don't forget to save room for their mouth-watering sopapillas for dessert!